SCHOOL OF ARABIC PERCUSSION
EGYPTIAN TABLAH & RIQQ
Traditional Classical Techniques & Rhythms
Beginner Through Professional Levels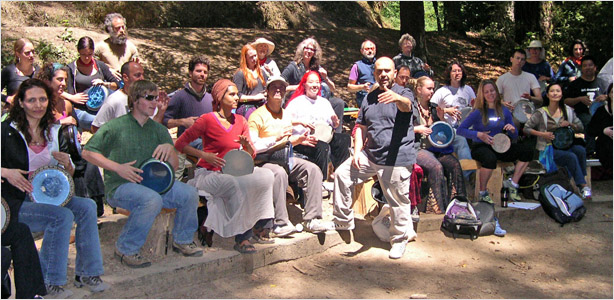 Souhail Kaspar offers private and group classes for the Egyptian Tablah (Darabuka or Doumbek) and the Riqq (Egyptian Tambourine).

Beginner Level:
In this class the student will learn instrument position, flexibility exercises, hand control techniques for basic dum and taks, introductory rhythms and timing. For the Riqq both classical and cabaret instrument positions are taught. Emphasis is placed on staying relaxed with the use of proper technique and posture! This class is for beginners and is also recommended for higher level drummers that want to improve any weakness in their technique as well as receive guidance to correct "bad habits".

Intermediate Level:
In this level there is continued monitoring of proper hand control and instrument position. Hand control techniques for the half pop, full pop, half tak, half dum, and rolls are taught. Numerous rhythms are taught along with their variations and embellishments. For the Riqq different zill techniques and tones are taught. Classical and cabaret rhythmic variations are introduced for both instruments.

Advanced Level:
Musician accompaniment is a big focus in these classes in addition to covering the 3 different types of drum solos: solo to show off the drummer, solo within a musical arrangement and solos for the dancer. Included are techniques that will spice up your performance and discussions regarding working with dancers and musicians on and off stage. Appropriate application of classical and cabaret rhythmic variations is covered in depth.

Professional Level:
At this level Mr. Kaspar emphasizes how to "hear" Middle Eastern music, how it differs from traditional Western music and how to create the dynamics that make it exciting and soulful. He covers how to transition from one rhythm to another, when to use fills and variations, how to create the ground for instrumental solos (takasims) and how to compliment the melodic line.

---

DANCE THEORY WORKSHOPS
Understanding to Work Together
EGYPTIAN RHYTHM & MOVEMENT FOR RAQS AL-SHARQI
Middle Eastern Rhythms and Music for Dance &
DRUM SOLOS FOR DANCERS & DRUMMERS
Learning to work together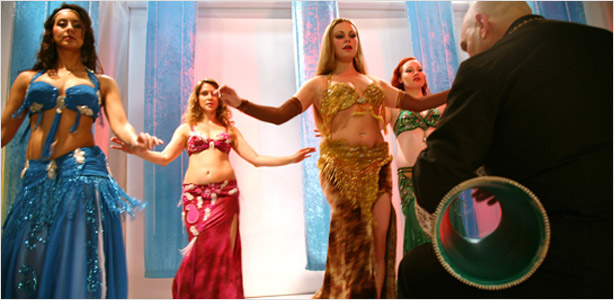 Souhail Kaspar, the originator of this unique style for teaching traditional Arabic dance theory, began his formal workshops in the United States in the 1980's. In these classes he serves as a teacher and coach for all levels of dancers, drummers and musicians. Mr. Kaspar gives students the tools to "hear" Middle Eastern rhythm and music and the tools to match the traditional dance movements of Raqs al-Sharqi to what they hear. His presentation style is clear, precise and fun!

"I must be able to see the rhythm on the dancer's body…she must translate the sounds of the rhythm, instrument and melodic line on her body in the right way… If the stage is dark and there is a spotlight only on the dancer, she will appear to be conducting the orchestra with her body."
S. Kaspar

Middle Eastern rhythms, music and dance developed together and their historical connection is quite specific. Mr. Kaspar brings the concepts of this traditional connection to his students everywhere. He de-mystifies the complexities of Middle Eastern music and gives a clear format for interpreting the music with dance.

Both dancers and musicians will become familiar with the specific movements used to show the elements of music—rhythm, instrumentation and melodic dynamics—as well as the movements used to show the tones and techniques used for drum solos.

The dance presentation of each element is described using explanations and demonstrations regarding the appropriate body part to use, the direction that body part must move in and the overall style and dramatic intensity applied to each movement. The concept of layering the various movements to match the intricacies of what is heard in the music is explained in detail and practiced! Students also learn when and how to incorporate ethnic folkloric movements into their classical and modern dance performances.

With this information the dancer will be able to perform to live and/or unfamiliar music with a sense of comfort and conviction as she/he will be able to interpret "in the moment" what is being played. Mr. Kaspar teaches easily applied concepts rather than memorized choreography!